Single Course
£150.00
£75.00
Save £75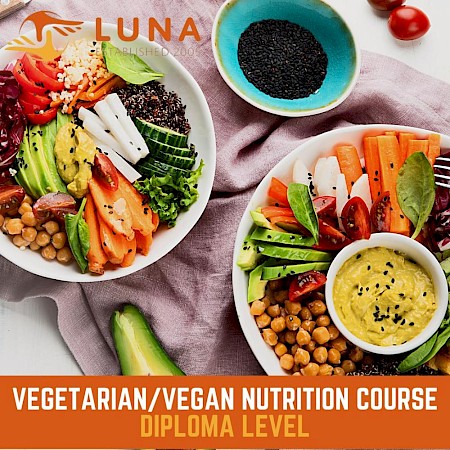 Vegan & Vegetarian Nutrition- Diploma Course
Get further discounts on this course when you select one of our package options 
Includes a certificate of completion with option to gain an accredited insurable qualification included. As with all our courses you will find this easy to follow and fun to learn.
If you're considering a shift towards a vegan or vegetarian diet, you're not alone! There are countless motivations for making this change, such as improving your overall health and reducing your risk of various diseases. This course is designed to guide you through the different types of vegan and vegetarian diets that exist, helping you make the best-informed decision for your lifestyle. Whether you're new to this way of eating or a seasoned pro, this course will provide you with a solid foundation to kickstart your journey towards a healthier, more ethical, and sustainable future.
When you purchase this course you have access to the following:
PDF Introduction letter 
Access to student dashboard
PDF course files ready for immediate download
PDF certificate of completion with option to gain an accredited insurable qualification.
Link to student video library & contact details for tutor support
Exam & Accreditation Information
If you opt to take the exam, on successful completion, you will then be issued with a recognised qualification approved & accredited by the International Practitioners of Holistic Medicine (IPHM) & other awarding bodies. Graduates of which will then be eligible to apply to be Board Certified Holistic Health Practitioners. 
You may also like to continue your studies with our Health and Nutrition Diploma Course
Testimonial
I could not believe how much information I gained from taking this course. It has totally changed my outlook on both vegan and vegetarian diets and has been so helpful to enable me to offer my clients a more balanced approach to diets as a professional nutrition coach.  - J Salmonds - Spain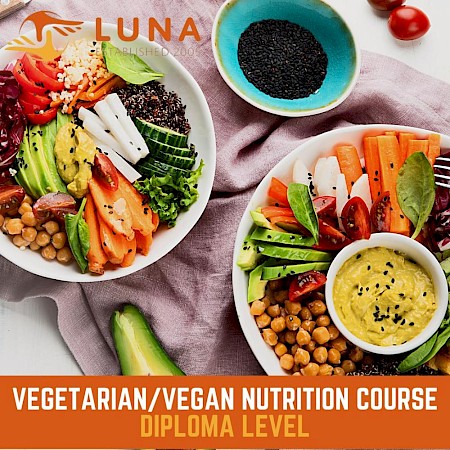 Course Details
Vegan and Vegetarian Nutritionion -  Certificate Level
Self Paced – Study From Home – No Attendance Required
Easy To Follow and Fun To Learn
Full Tutor Support Offered – Access To Student Video Library
Accredited by IPHM, IICT, AADP
Download Now for Immediate Start 
Course Content
Part 1
Lesson 1
• The different types of vegetarianism and veganism
• History and background of vegetarian and vegan diets
• Vegetarianism and veganism in modern times
Lesson 2
• Environmental benefits
• Physical benefits
• Disease prevention
Lesson 3
• Concerns with vegan and vegetarian diets
• Which type of diet is best for me
• Special considerations
Part 2
Lesson 4
• Protein consumption
• High protein vegan and vegetarian foods
• Iron consumption and anemia
• Iron-rich vegan and vegetarian foods
Lesson 5
• Vitamin B12
• Vitamin A
• Calcium
• Vitamin D
• Omega 3 acids
• L-Cartinine
Lesson 6
• Pregnant women
• Children
• Elderly people
• Bodybuilders and athletes
Part 3
Lesson 7
• Creating a balanced diet
• Nutrient and mineral checklist
• Meal planning
• Examples of meal planning
Lesson 8
• Vegan and vegetarian fast food and snacks
• Batch cooking
• Eating out
• Vegan and vegetarian cuisine from around the world
Lesson 9
• How to become a nutritionist
• Setting up your own clinic
• How to conduct sessions
• Advertising and promotion
• Legal and certification considerations
Part 4
• Case study examples
• Conclusion of course material
Also Including Extra PDF Files:-
Over 50 Smoothie Recipes Ideas
Fantastic Organic food facts
Consultation Nutrition Card
Client record Card
Exam & Accreditation Information
Accredited by International Practitioners of Holistic Medicine (IPHM) & other awarding bodies. By completing this course and passing the final exam you will then be invited to join IPHM as an internationally recognised practitioner and have the option to obtain discounted insurance and use the letters IPHM after your name. 
Further Discount Offer
Huge Savings on our Career Package Options
All our courses are available individually (use the add-to basket button on this page), or are available as package bundles, allowing you to save on average 50% per course.
Use the link here to view the packages, where you can mix and match your own selection of courses to create your very own package.