Single Course
£150.00
£99.99
Save £50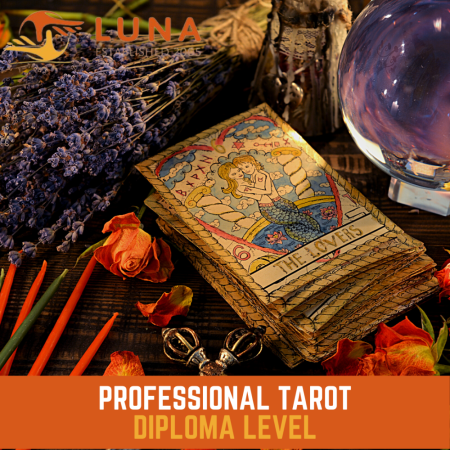 Tarot Reading  - Diploma Level
"Unleash Your Inner Intuition and Master the Art of Tarot Reading with Luna Holistics' Beginner to Professional Tarot Course"
Get further discounts on this course when you select one of our package options 
Includes a certificate of completion with option to gain an accredited insurable qualification included. As with all our courses you will find this easy to follow and fun to learn.
Beginner to professional level course. Whether you have been reading tarot cards for a while or have no experience,  you will benefit from this course. It is not necessary to have any "psychic powers" however you will be encouraged to learn how to tap into and develop your own inner intuition. You will need a full set of tarot cards 78 card deck recommended (not supplied) 
When you purchase this course you have access to the following:
Access to studend dashboard
PDF course files ready for immediate download
PDF certificate of completion with option to gain an accredited insurable qualification.
Link to student video library & contact details for tutor support
Exam & Accreditation Information
 "No matter your experience level, our comprehensive course will help you develop your psychic abilities and confidently read tarot cards like a pro."

If you opt to take the exam which is included and on successful completion, you will then be issued with a recognised diploma which is approved & accredited by the International Practitioners of Holistic Medicine (IPHM) & other awarding bodies. Graduates of which will then be eligible to apply to be Board Certified Holistic Health Practitioners. 
Testimonial
 I love your courses. They are really easy to follow. Lots of information that is easy to understand and lots of useful exercises. The material is both challenging and rewarding. The exams offer wonderful feedback and the certification is an added bonus. Thank you! – Yvonne Phelan – Republic of Ireland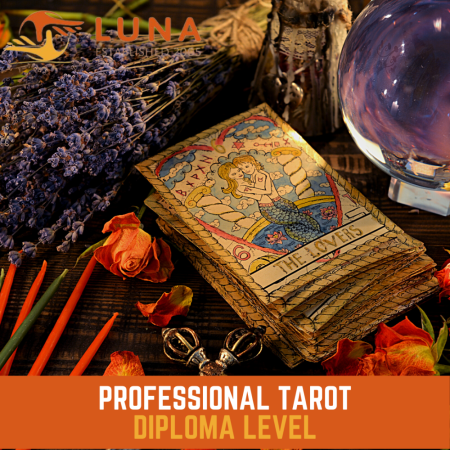 Course Details
Learn Tarot - Professional level Tarot -  Diploma Course
Self Paced – Study From Home – No Attendance Required
Easy To Follow and Fun To Learn
Full Tutor Support Offered – Access To Student Video Library
Accredited by IPHM, IICT, AADP
Download Now for Immediate Start 
Course Content
Part 1
Lesson 1
History of tarot
Relationship between tarot and ordinary playing cards
Why people use the tarot
Practical advice
How to energise your cards
Shuffling and dealing the cards
Explanation of the major/minor Arcana and court cards
How numbers relate to the cards
Spreads
Choosing your cards
Choosing the colour of the cloth to wrap your cards in
Section A
Starting your readings
Exercise on noting your feelings on the meanings of the Major Arcana cards
 Journey of the tarot (Fools Journey) which represents the journey from the first steps of the Fool to the end of the World
Rules on reading cards for others
Upright and reverse meanings of the Major Arcana deck to compare with your feelings on the individual cards
Lesson 2
Readings and spreads
Tips on basic meditation before reading the cards
Can you read your own cards
Simple readings and their meanings
Example of a question reading
Introduces the Suit of Wands/Batons
Lesson 3
Explanation of the signification in tarot
Explanation of the signification in numerology
Introduces the horoscope spread
More detail to a reading and the wand cards which can now be incorporated in amongst the Major Arcana cards.
Section B
Suit of Cups
Upright and reverse meanings
Part 2
Lesson 4
Explains why individual suits have been introduced on a step by step basis so that students can become familiar with their meanings before moving on to the next suit of Tarot cards
Introduces the Celtic Cross Spread which is the most popular Tarot Spread
Excellent layout for the beginner as it has specific cards for specific purposes
Great opening spread for any Tarot reader
Coins/Discs or Pentacles suit and the Suit of Swords
Upright and reverse meanings
Lesson 5
Groupings and combinations of cards
Introduces the Cross Spread
How it can be interpreted
Lesson 6
Tips on avoiding bad vibes
What and where are your Chakras
How to open them
List of frequently asked questions
How to close down after a reading
Practical advice on taking up a career as a reader
Other necessary skills
Business equipment
What do with failed readings
How long a reading should last
Tips on identifying charges for your readings
Responsibilities of a Professional Tarot reader
Section C
Introduces the Calendar Spread and its interpretation
Part 3
Lesson 7
Lessons in love
Shuffling methods
Four card love spread
Relationship spread
Your and your partner spread
Single person spread
Mystic seven card spread
How they can be interpreted
Lesson 8
Helpful advice on being more proficient as a reader
Getting more enjoyment and development in your spiritual life
Finished readings and how to deal with regular clients
Advice on Card layouts/spreads
Devising your own spread and timing of the cards
Exam & Accreditation Information
Accredited by International Practitioners of Holistic Medicine (IPHM) & other awarding bodies. By completing this course and passing the final exam you will then be invited to join IPHM as an internationally recognised practitoner and have the option to obtain discounted insurance and use the letters IPHM after your name.
Further Discount Offer
Huge Savings on our Career Package Options
All our courses are available individually (use the add-to basket button on this page), or are available as package bundles, allowing you to save on average 50% per course.
Use the link here to view the packages, where you can mix and match your own selection of courses to create your very own package.