Single Course
£150.00
£125.00
Save £25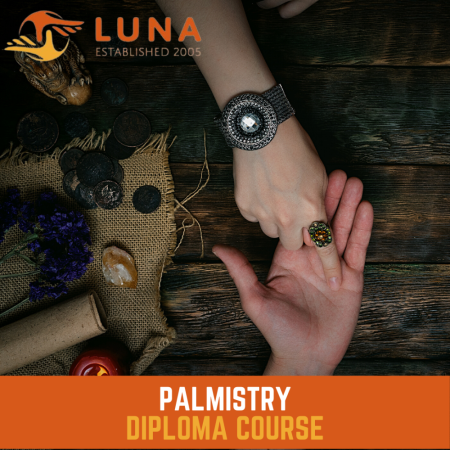 Palmistry - Diploma Course
Get further discounts on this course when you select one of our package options 
Includes a certificate of completion with option to gain an accredited insurable qualification included. As with all our courses you will find this easy to follow and fun to learn.
Learn how to read palms with palmistry. Ideal for beginners. You will find with our easy to "read palms guide" and course packed full of information that will enable you to learn the art of palm reading also known as chiromancy.
When you purchase this course you have access to the following:
PDF Introduction letter 
Access to student dashboard
PDF course files ready for immediate download
PDF certificate of completion with option to gain an accredited insurable qualification.
Link to student video library & contact details for tutor support
Exam & Accreditation Information
If you opt to take the exam which is included, on successful completion, you will then be issued with a recognised qualification approved & accredited by the International Practitioners of Holistic Medicine (IPHM) & other awarding bodies. Graduates of which will then be eligible to apply to be Board Certified Holistic Health Practitioners. 
Testimonial
 "I found what I have previously tried to learn with difficulty now an easy to follow course that has both amazed me and my friends and family when I have accurately assessed their palms. I now use this all the time alongside my tarot consultations and have seem my client base increase tenfold. Thank you so much for making what I once thought a complicated subject easy and simple to follow" Mary Vincent – London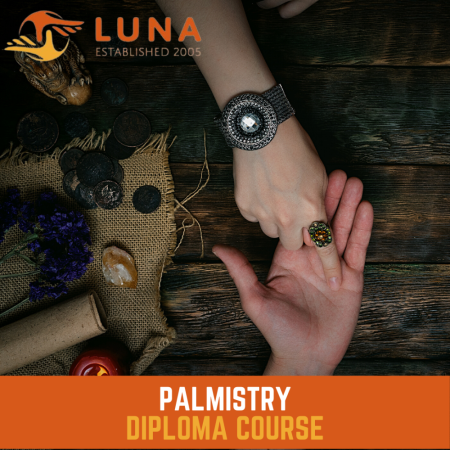 Course Details
Palmistry Course - Diploma Course
Self Paced – Study From Home – No Attendance Required
Easy To Follow and Fun To Learn
Full Tutor Support Offered – Access To Student Video Library
Accredited by IPHM, IICT, AADP
Download Now for Immediate Start 
Course Content
Part 1
Lessons 1
History of Palmistry
Introduction of the different hand shapes
Earth Hand
Air Hand
Fire Hand
Water Hand
What indicates a person and their fundamental personality
Lesson 2
Different Mounts of the Hand
How they can look different on an individual
Their Meanings
Lesson 3
Explanation of the fingers
Thumb nails
Phalanges
Characteristics an individual's personality
Part 2 
Lesson 4
Principal lines of the hand
Their quality
Where the lines end and begin
Shapes
Colours
Rising lines
Their meanings
Definition of the Life Line
Calculation of the different times of life – essential to the art of a Professional Palmist
Lesson 5
Definition of the Head Line
Equality
Length
Shape
Lines of interference – further describe an individual's character
Lesson 6
Definitions of the Heart Line – emotional part of the makeup of a person
Fate Line – deals with careers and the path that a person can take
Part 3
Lesson 7
Minor Lines of the Hand – describe an individual's personality and can also help them with their future choices and direction
Medical Stigmata
Lines of Marriage
Line of Mercury
Bracelets of Neptune
Ring of Saturn
Ring of Solomon
Girdle of Venus
Lines of Mars
Line of Apollo
Lesson 8
Crosses
Squares
Other Signs
Conclusion: Exercise for students to practice their new learnt skills in Palmistry and consolidate what they have read.
Exam & Accreditation Information
Accredited by International Practitioners of Holistic Medicine (IPHM) & other awarding bodies. By completing this course and passing the final exam you will then be invited to join IPHM as an internationally recognised practitoner and have the option to obtain discounted insurance and use the letters IPHM after your name. 
Further Discount Offer
Huge Savings on our Career Package Options
All our courses are available individually (use the add-to basket button on this page), or are available as package bundles, allowing you to save on average 50% per course.
Use the link here to view the packages, where you can mix and match your own selection of courses to create your very own package.