Single Course
£175.00
£150.00
Save £25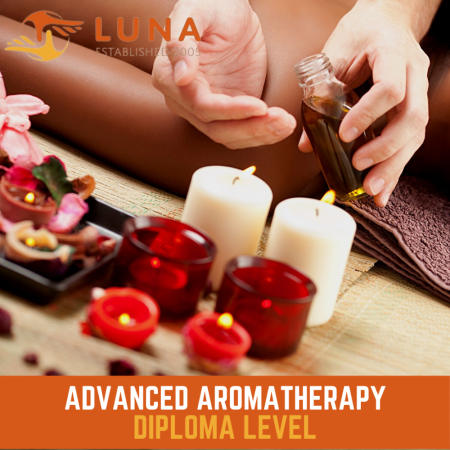 Advanced Aromatherapy - Diploma Level
Get further discounts on this course when you select one of our package options 
Includes a certificate of completion with option to gain an accredited insurable qualification which is included. As with all our courses you will find this easy to follow and fun to learn.
This course if for students who have already understaken the beginners guide to aromatherapy or already have a sound knowledge of the basics and now wish to continue to advanced level. Learn the science of aromatherapy and essential oils including the science of plants. You will learn an easy to follow step by step treatment for your clients and how to set up your own aromatherapy business. As this is an advanced level course you shoud already have a good understanding of basic massage techniques so enable you to proceed with the more complex massages shown in this course. 
When you purchase this course you have access to the following:
Pdf Introduction letter 
Access to student dashboard
Pdf course files ready for immediate download
Pdf certificate of completion with option to gain an accredited insurable qualification included
Link to student video library & contact details for tutor support
Career opportunities: Work self-employed or in a Holistic Center as an approved – Aromatherapy Therapist/Healer/Consultant – Professional Holistic Therapist – Complementary Practitioner – Holistic Healer
Exam & Accreditation InformationExam & Accreditation Information
If you opt to take the exam which is included and on successful completion, you will then be issued with a recognised qualification approved & accredited by the International Practitioners of Holistic Medicine (IPHM) & other awarding bodies. Graduates of which will then be eligible to apply to be Board Certified Holistic Health Practitioners. 
Testimonial
I found this course to be really enjoyable. My family and friends have certainly felt the benefit and have been booking in advance for me to get some practice in. The material is very thorough and educational. I have really enjoyed this course and look forward to the advanced one also. I can't recommend it highly enough.  Natalie Parr - UK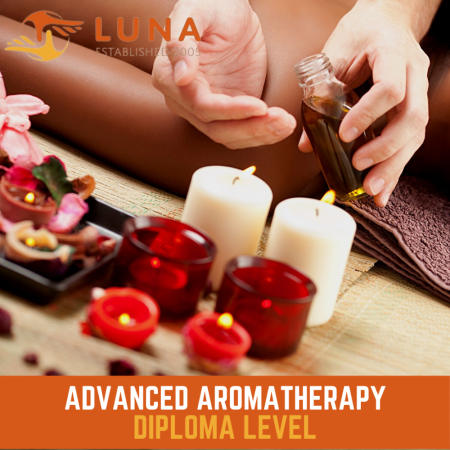 Course Details
Advanced Level Diploma Level Course
Self Paced – Study From Home – No Attendance Required
Easy To Follow and Fun To Learn
Full Tutor Support Offered – Access To Student Video Library
Internationally Accredited awarded IPHM, AADP -Equivalent 60 cpd points
Download Now for Immediate Start 
Course Content
Part 1 
Lesson 1
  Learn the origins of Aromatherapy and Essential Oils
  History and background of aromatherapy
  How aromatherapy is used in current times
  Understanding aromatherapy as a healing art
Lesson 2
  The Science of Aromatherapy and Essential Oils
  Chemistry basics and that of  essential oils
  Essential oils containing high amounts of ketones
Lesson 3
  The Science of Plants & the basic chemical make up of essential oils
  Anatomy of plants and Metabolism
  Plant Classification
  Plant Aromatics  and photosynthesis and transpiration
  Oil-producing structures
Part 2
Lesson 4
  Anatomy and Physiology
  Restore and heal the body on all levels
  Body Systems, Cells and Tissues
  Skin structure
Lesson 5
  Understanding how and when Essential Oils Enter the Body
  Ingestion Olfaction Absorption
  The Musculoskeletal System
  The use and application of Expectorants
  The Circulatory System
Lesson 6
  The lymphatic,  immune and the Endocrine System
  The Digestive System
  Oil Sources
  Extraction Methods
  Buying Oils
  Carrier Oils
  Blending Oils
Part 3
Lesson 7
  Aromatherapy Massage
  How Massage Works
  Types of Massage
  Providing a Massage
  Precautions and Contraindications
  Step by Step Treatment
  Evaluation and Aftercare
  Home Treatments
Lesson 8
  Aromatherapy for Special Conditions Pregnancy and Childbirth
  Treating Babies and Children
  Helping those with Mental Difficulties
  Alleviating Stress
  Aromatherapy for the Elderly Aromatherapy and Cancer
Lesson 9
  How to Become a Successful Aromatherapist
  Going into Practice
  Setting up your Own Clinic
  Advertising and Promotion
  Maintaining Professional Standards
Part 4 
  Aromatherapy for Special Conditions eg:
  Pregnancy,  Babies and Children
  Working with the elderly
  Cancer Patients
  Providing stress relief and how stress effects the body
  Setting up your own aromatherapy business & guide
  Directory of Essential Oils
Study Hours – 168 hrs. – Please note that study hours shown here can only be an approximate guide as this can highly depend on how much time you personally have and can dedicate to your studies, plus how well you grasp the learning concepts of the  Advanced Aromatherapy Diploma Course.
Exam & Accreditation Information
Accredited by International Practitioners of Holistic Medicine (IPHM) & other awarding bodies. By completing this course and passing the final exam you will then be invited to join IPHM as an internationally recognised practitoner and have the option to obtain discounted insurance and use the letters IPHM after your name. 
Further Discount Offer
Huge Savings on our Career Package Options
All our courses are available individually (use the add-to basket button on this page), or are available as package bundles, allowing you to save on average 50% per course.
Use the link here to view the packages, where you can mix and match your own selection of courses to create your very own package.