Single Course
£150.00
£99.00
Save £51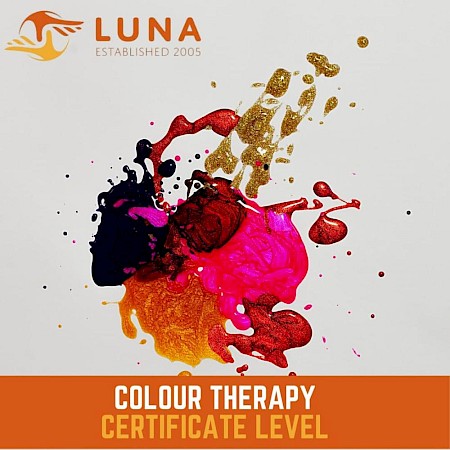 A Beginners Colour Therapy - Certificate Course
Get further discounts on this course when you select one of our package options 
Includes a certificate of completion with option to gain an accredited insurable qualification included. As with all our courses you will find this easy to follow and fun to learn.
You can combine colour therapy with many other related healing therapies and it works well combined with such as aromatherapy, crystal healing, energy and reiki healing for example. This complementary colour therapy course can also be used as a stand alone treatment. As a trained holistic therapist you learn how to detect whatever energy a persons body maybe lacking, even if this is on an emotional or spiritual level and not just on mental or physical. Learning how to guide your clients by using colour therapy offers them an amazing natural therapy. 
When you purchase this course you have access to the following:
Pdf Introduction letter 
Access to student dashboard
Pdf course files ready for immediate download
Pdf certificate of completion with option to gain an accredited insurable qualification included
Link to student video library & contact details for tutor support
Career opportunities: Work self-employed or in a Holistic Center as an approved –  Basic Colour Practitioner – Holistic Therapist – Complementary Practitioner 
Exam & Accreditation Information Exam & Accreditation Information
If you opt to take the exam, on successful completion, you will then be issued with a recognised qualification approved & accredited by the International Practitioners of Holistic Medicine (IPHM) & other awarding bodies. Graduates of which will then be eligible to apply to be Board Certified Holistic Health Practitioners. You may continue your studies with our Advanced Level Colour Therapy Diploma course if wishing to work as a professional colour therapist. 
Testimonial
This was one of my favourite courses to study with Luna Holistics. It was easy to follow and to put into practice, I loved having access to the student library and Tutor support was always on hand with quick responses when required. My life is definitely more balanced and colourful after studying this course. Many thanks". Jane Turnbell – New Zealand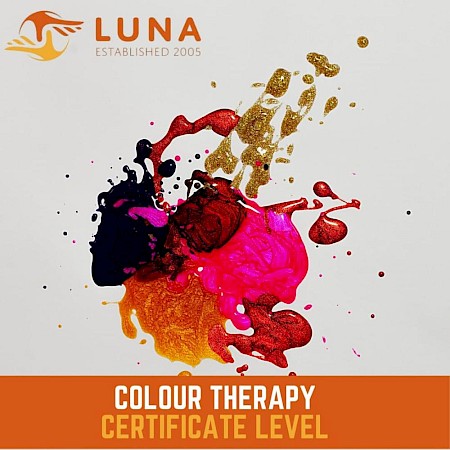 Did you know that Color therapy can also be used to treat physical ailments. One study found that exposure to red light was effective in reducing inflammation, while blue light was found to reduce inflammation and support wound healing. Other studies have found that red light can reduce pain in patients with arthritis and relieve migraine pain. 
In addition, chromotherapy can be used to improve sleep quality. Studies have shown that certain colors, such as blue and green, can reduce anxiety and help to induce sleep. Other studies have found that chromotherapy can help to reduce insomnia and improve sleep quality.
Course Details
Beginners Level Colour Therapy - Certificate Level
Self Paced – Study From Home – No Attendance Required
Easy To Follow and Fun To Learn
Full Tutor Support Offered – Access To Student Video Library
Accredited by IPHM, IICT, AADP
Download Now for Immediate Start
Course Content
Part 1 
Introduction and history of colour therapy
How to take a colour test on yourself
Science of colour
Visible spectrum
Addictive primary colours
Complimentary colours
Colour hue, saturation, and luminance with examples
Philosophy of colour therapy
Effects and subtle anatomy
Aura
Aura colours and what they are
How to see the aura
How to see the 7 chakras
Chakra colours
Chakra functions
Associated elements and their symbols
Part 2
Counselling
Art therapy
Colours and their meanings
Colour dislikes
Colour tests
Relationships revealed through colour
Music
Fragrance
Colour
Life song (numerology)
Using music with colour therapy
Seasonal personalities and colour
Use of colour in dress
Colour of the home

How it can be used in different rooms for best effect
Part 3 
Colour breathing and visualization
Exercise on universal breathing (yoga technique)
Power of the mind

Exercise on using minds with breathing for powerful effect
How the exercise can change the conditions around us

Colour breathing in health and beauty
Exercise on sending a colour to an area you wish you teal
Colour affirmations
Colour and rainbow meditation
Colour and diet

What the different foods stand for
How different foods help certain conditions
Further details on different foods
Chromotheraphy (light therapy)
Acupuncture/colour reflexology
Colour related diet
Bach flower remedies
Essential oils
Art and music therapy
Silk scarf treatment
Crystal treatments
Colour breathing
Meditation
How to use different colours to treat certain conditions
Colour therapy in practice
Hints and tips for the professional therapist
Sample client treatment card
Exam & Accreditation Information
Accredited by International Practitioners of Holistic Medicine (IPHM) & other awarding bodies. By completing this course and passing the final exam you will then be invited to join IPHM as an internationally recognised practitoner and have the option to obtain discounted insurance and use the letters IPHM after your name. 
Further Discount Offer
Huge Savings on our Career Package Options
All our courses are available individually (use the add-to basket button on this page), or are available as package bundles, allowing you to save on average 50% per course.
Use the link here to view the packages, where you can mix and match your own selection of courses to create your very own package.