Single Course
£150.00
£99.99
Save £50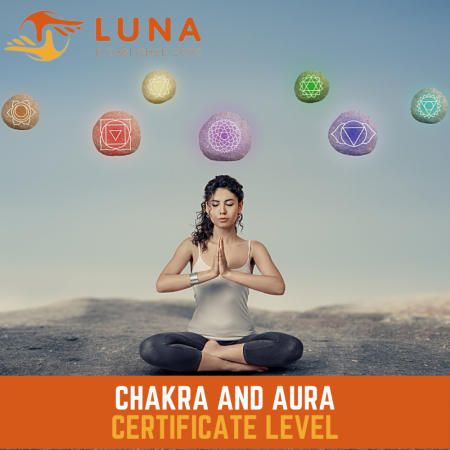 Chakra & Aura Healing - Certificate Course
Get further discounts on this course when you select one of our package options 
Includes a certificate of completion with option to gain an accredited insurable qualification. As with all our courses you will find this easy to follow and fun to learn.
Learn about the 7 main chakras, how to recognised if they are blocked and what to do to keep them balanced with the use of crystals and other methods. You will learn how to see auras and energy fields. This course covers practical tips and practices to ensure you can work as a professional therapsit. 
When you purchase this course you have access to the following:
PDF Introduction letter 
PDF course files ready for immediate download
PDF certificate of completion with option to gain an accredited insurable qualification.
Link to student video library & contact details for tutor support
Exam & Accreditation Information
If you opt to take the exam, on successful completion, you will then be issued with a recognised qualification approved & accredited by the International Practitioners of Holistic Medicine (IPHM) & other awarding bodies. Graduates of which will then be eligible to apply to be Board Certified Holistic Health Practitioners. 
Testimonial
 I have just completed the Chakra & Aura Healing Certificate Course and have to say what a worthwhile and enjoyable experience it has been for me. This course is a great complement to Reiki and Crystal Healing. I will definitely be completing more courses with Luna as the layout and support you get is second to none. Love the idea that if I want to do the exam I have the option after I have completed the course.  Many thanks.
Tracey Hughes, Inverkip – UK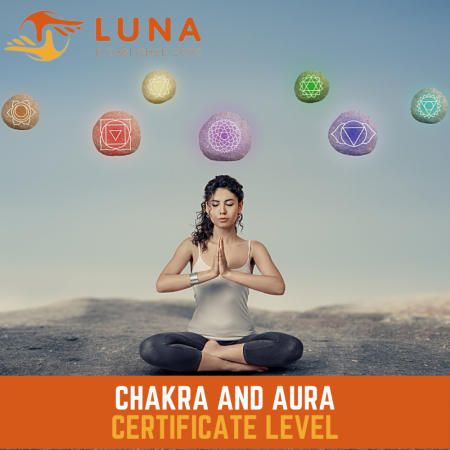 Course Details
Accredited Chakra and Aura Therapy - Certificate Level
Self Paced – Study From Home – No Attendance Required
Easy To Follow and Fun To Learn
Full Tutor Support Offered – Access To Student Video Library
Accredited by IPHM, IICT, AADP
Download Now for Immediate Start 
Course Content
Part 1 
Lesson 1
Introduce you to chakras
Understand how the chakra system works
How chakras affect us
How chakras and other therapies work well together
Chakra Chart
Lesson 2
Balancing chakras with pendulum
How to make your own pendulum
 How to program your pendulum
Pendulum chart
Simple ways to meditate which is an important part of working with chakras
Lesson 3
How reiki and chakras work
Reiki symbols
Chakra stones
How to use them when healing
Part 2
Lesson 4
Understanding what aura is
Auric Fields
Meaning of different colours in typical auras
Lesson 5
How to see auras
Exercises
 How to work with auras for healing
Aura meditation exercise
How to cleanse the aura
How to cleanse chakras
Lesson 6
Full aura and chakra healing treatments
How to spot the symptoms of blocked chakras
Their symbols
How to distinguish between under and over developed chakras
Sample treatment card for you to complete for your clients
Exam & Accreditation Information
Accredited by International Practitioners of Holistic Medicine (IPHM) & other awarding bodies. By completing this course and passing the final exam you will then be invited to join IPHM as an internationally recognised practitoner and have the option to obtain discounted insurance and use the letters IPHM after your name. 
Further Discount Offer
Huge Savings on our Career Package Options
All our courses are available individually (use the add-to basket button on this page), or are available as package bundles, allowing you to save on average 50% per course.
Use the link here to view the packages, where you can mix and match your own selection of courses to create your very own package.