*Note: due to fluctuations in exchange rates, prices shown in currencies other than GPB are approximate. Payments are always taken in GBP.
Single Course
£175.00
£75.00
Save £100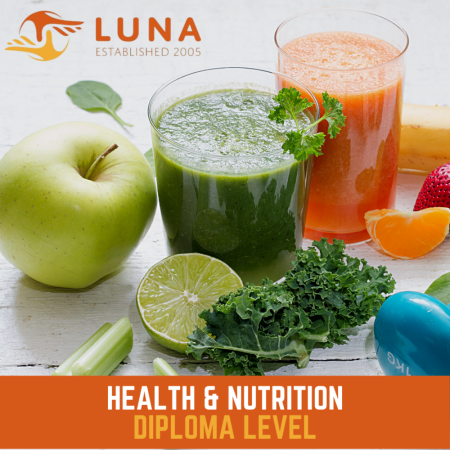 Health, Diet & Nutriton - Diploma Course 
Get further discounts on this course when you select one of our package options 
Includes a certificate of completion with option to gain an accredited insurable qualification. As with all our courses you will find this easy to follow and fun to learn.
This Diet, Lifestyle and Functional Nutrition course will develop your understanding of the role of diet and lifestyle and their impact on overall health. It will enable you to work with clients to help them to identify potential allergens and intolerance's, assist them with planning and implementing a diet plan to positively impact health and allow you to recommend or refer clients for clinical diagnoses of underlying health conditions.
When you purchase this course you have access to the following:
PDF Introduction letter 
PDF course files ready for immediate download
PDF certificate of completion with option to gain an accredited insurable qualification.
Link to student video library & contact details for tutor support
Exam & Accreditation Information
If you opt to take the exam, on successful completion, you will then be issued with a recognised qualification approved & accredited by the International Practitioners of Holistic Medicine (IPHM) & other awarding bodies. Graduates of which will then be eligible to apply to be Board Certified Holistic Health Practitioners. 
You may also wish to continue your studies with our Vegan & Vegetarian Course
Testimonial
A fabulous thorough course into functional nutrition, this will be a great asset to my Holistic Therapy business. I learned so much in the content, funny how I thought I already knew quite a lot before yet learned so much more by undertaking this course. Thank you once again Luna. Jackie Canale – Spain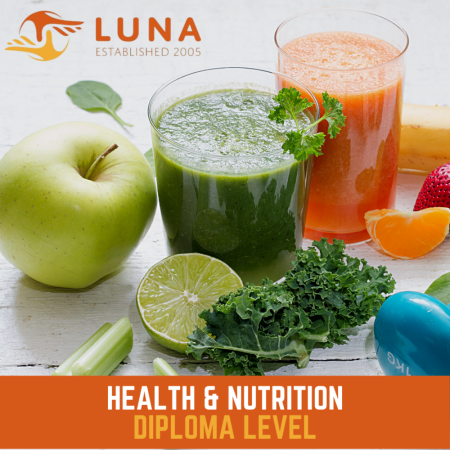 Course Details
Learn the essentials of diet, health, nutrition and functional Medicine
Self Paced – Study From Home – No Attendance Required
Easy To Follow and Fun To Learn
Full Tutor Support Offered – Access To Student Video Library
Accredited by IPHM, IICT, AADP
Download Now for Immediate Start 
Course Content
Part 1
balanced diet
understanding nutrition & diet
The science behind different diets including
The Paleo Diet
Keto, Atkins Diet
The Mediterranean Diet
The Vegan Diet
Gluten Free Diet
Weight watchers/Slimming world Diets
Low Fat Diets
Macronutrients & Proteins
Table of Complementary Proteins
Combinations to create complete proteins
Carbohydrates
Understanding different Fats
Vitamins
Folic acid
Niacin
Riboflavin
Thiamine
Minerals
Self Check questions
Part 2
Health issues including:
Obesity
Diabetes
Cardiovascular Disease
Cancer
Dental Disease
Osteoporosis
Epilepsy
Alzheimer,s
Autoimmune Disease
Chronic Fatigue Syndrome
ME
Fibromyalgia
Celiac Disease
Leaky Gut
Excercise
Risks from Alcohol & Smoking
Self Check Questions
Part 3
What is Functional Nutrition
How to use Functional Nutrition
Diet review
How gather necessary information
Example of a diet and nutrition journal (print off for clients)
Self check questions
Once you have completed this course you have the option to become a fully competent Certified Health and Nutrition practitioner on successful completion of an exam. You may then register this as your status with IPHM. 
Further Discount Offer
Huge Savings on our Career Package Options
All our courses are available individually (use the add-to basket button on this page), or are available as package bundles, allowing you to save on average 50% per course.
Use the link here to view the packages, where you can mix and match your own selection of courses to create your very own package.