Single Course
£150.00
£75.00
Save £75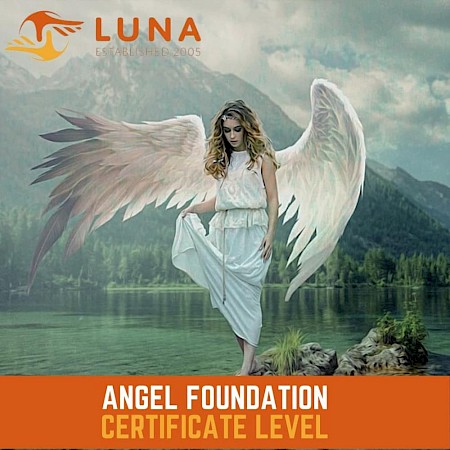 A Beginners Guide To Working With Angels - Certificate Course
Get further discounts on this course when you select one of our package options 
Includes option to gain a fully accredited Certificate - nothing extra to pay.  As with all our courses you will find this easy to follow and fun to learn.
Angel Therapy is a spiritual healing method. This course will teach you how to connect with Guardian Angels and your Guides. Get to know your angels and empower yourself and others by tapping into this fascinating subject. You will also learn how to assist others with their spiritual journeys. 
When you purchase this course you have access to the following:
PDF Introduction letter 
PDF course files ready for immediate download
PDF certificate of completion with option to gain an accredited insurable qualification.
Link to student video library
Exam & Accreditation Information
If you opt to take the exam, on successful completion, you will then be issued with a recognised qualification approved & accredited by the International Practitioners of Holistic Medicine (IPHM) & other awarding bodies. Graduates of which will then be eligible to apply to be registered as a Holistic Health Practitioner.  We recommend if wishing to work as a professional Angel Therapist then you may also wish to continue your studies with the Advanced Level Angel Therapy Diploma Course.
Testimonial
 I felt very confident about my knowledge, skills and abilities, once I completed the course. I feel connected and inspired when I am performing a reading and so do my clients. Luna has given me confidence in my intuitive gifts.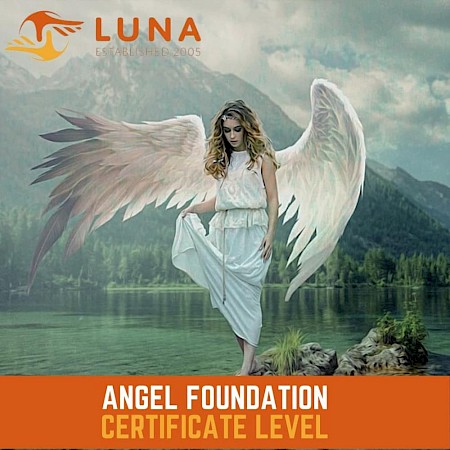 Course Details
Beginners Guide To Angel Healing Certificate Course
Self Paced – Study From Home – No Attendance Required
Easy To Follow and Fun To Learn
Full Tutor Support included  – Access To Student Video Library
Accredited & recongnised by IPHM, AADP, IICT
Download Now for Immediate Start 
Course Content
Part 1
Lesson 1 provides a history of the angels, explains about guardian angels and how they are always with you from the minute that you soul decides to inhabit earth, how to connect with your angels, more on angel therapy and working with angels.  This lesson then continues with information on Archangels and the angels that are closest to humanity.
Lesson 2 teaches you about the major chakras, where they are located, what they relate to, what happens if they are blocked and what body parts they relate to.  This lesson advises you on setting up your angel altar, how to meditate to allow you to make contact with your angels and request that they participate in your daily life. This lesson continues with explaining how crystals play an important part in Angel Therapy, what each stone represents and how they can help in certain situations, emotional and/or medical conditions.  Finally there is a guide on how to store you should store aromatherapy oils.
Lesson 3 introduces the angels, what they represent and how they can help with certain situations, mental and physical conditions.
Part 2
Lesson 4 explains the link with angels and crystals, when you should cleanse your crystals and different ways of doing this, encoding and programming your stones to focus on its abilities to help with something you need so that it becomes a useful and powerful tool.  This lesson continues with preparation for opening up to your angels, all you need to know about practising mediation.
Lesson 5 provides details of crystals and stones that relate to individual Archangels and their functions; this is a particularly useful tool to refer to before performing Angel Therapy as you can tailor the treatment accordingly.
Lesson 6 provides guidance on working with chakras and crystals to keep them balanced and flowing freely, it catalogues the different chakras, related stones and essential oils.  This lesson then guides you on how to choose a stone to help with a particular problem; causes of blocked chakras and which stones should be used, the laying of the stones to balance treatment of the chakras and aftercare advice. Finally this concludes with combining angel therapy with other therapies and tips on Angel Card Readings. Your course includes a sample angel therapy client treatment card.
Once you have completed this course you may then like to proceed to the Advanced Angel Therapy course if wishing to learn more about the power or working with Angels if you would like to become a fully competent Certified Angel Practitioner.
Exam & Accreditation Information
Accredited by International Practitioners of Holistic Medicine (IPHM) & other awarding bodies. By completing this course and passing the final exam you will then be invited to join IPHM as an internationally recognised practitoner and have the option to obtain discounted insurance and use the letters IPHM after your name. Full details will be provided with your course work.  
Further Discount Offer
Huge Savings on our Career Package Options
All our courses are available individually (use the add-to basket button on this page), or are available as package bundles, allowing you to save on average 50% per course.
Use the link here to view the packages, where you can mix and match your own selection of courses to create your very own package.