Single Course
£150.00
£99.00
Save £51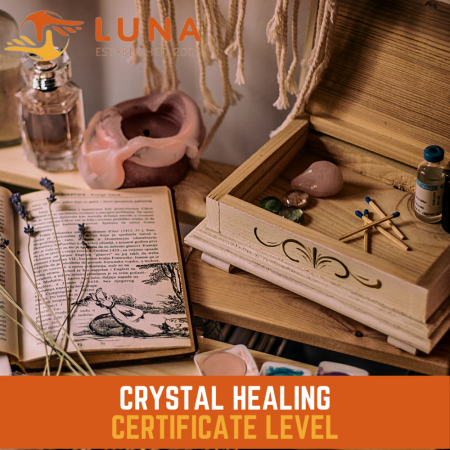 Crystal Therapy - Certificate Course
Get further discounts on this course when you select one of our package options 
Includes a certificate of completion with option to gain an accredited insurable qualification. As with all our courses you will find this easy to follow and fun to learn.
This course is suitable for beginners or for those of you who would like to work with crystals on clients or yourself. Crystals have been used to improve both health and spiritual growth for hundreds of years. This is a safe and non-invasive therapy and has a range of lasting and wonderful benefits and works well alongside colour therapy and energy healing, including reiki. Option to continue your studies with Advanced Level in Crystal Therapy. 
Crystals can also be used for chakra balancing. When you are taught how to use the appropriate crystals as a therapist you can help your client to rebalance the body's energies, which then improves health and well being. Different types and colours of healing crystals are promoted to have different healing powers. You will learn how to use different crystals and what the benefits are.
Crystal therapy is an amazing healing modality that has been used for centuries to help people heal, balance, and transform their lives. It is based on the principle that crystals have a powerful energy that can be used to restore balance in the body and mind. 
When you purchase this course you have access to the following:
PDF Introduction letter 
PDF course files ready for immediate download
PDF certificate of completion with option to gain an accredited insurable qualification.
Link to student video library & contact details for tutor support
Exam & Accreditation Information
If you opt to take the exam, on successful completion, you will then be issued with a recognised qualification approved & accredited by the International Practitioners of Holistic Medicine (IPHM) & other awarding bodies. Graduates of which will then be eligible to apply to be Board Certified Holistic Health Practitioners. After completing this level it is recommended you continure your studies to the Advanced Crystal Magic Diploma Level if wishing to work as a professional Angel Therapist. 
Insurance Cover
Once you complete this training you will be entitled to gain insurance. All courses at Luna Holistics are accredited and recognised by industry professionals. 
Testimonial
 I found Luna Holistics Crystal Therapy course explained the basics right through to the more complex studies in such a way that it was easy to follow and easy to understand and allowed me to see the whole complete picture. I had a few questions which I sent as an email and they were answered very quickly with clear concise answers. I have already planned my next course to subscribe to. Lindsey Jelfs – England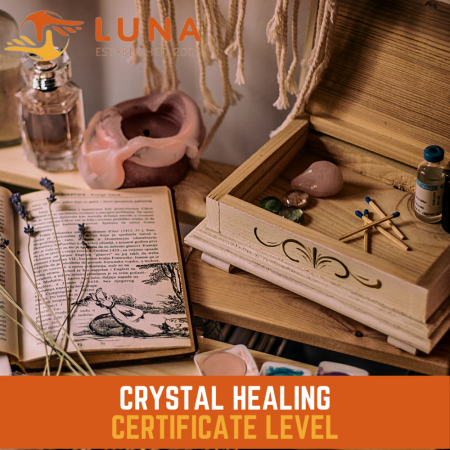 There are many types of crystals used in crystal therapy and each has its own unique properties and uses. Some of the most common crystals used for healing include quartz, amethyst, citrine, and rose quartz. With the help of this course to teach you how to become a crystal therapist, you can learn how to use the energy of these crystals to help you in your healing journey. 
Course Details
Beginners Guide To Crystal Healing - Certificate Level
Self Paced – Study From Home – No Attendance Required
Easy To Follow and Fun To Learn
Full Tutor Support Offered – Access To Student Video Library
Accredited by IPHM, IICT, AADP
Download Now for Immediate Start 
Course Content
Part 1 
Lesson 1
Introduction and history of Crystal Therapy
Crystals and Colour
Different Rock Crystals
Inclusions found in quartz
Lesson 2
Working with Subtle Energy
Subtle Bodies on Men (our aura)
Polarity of the Body
Devic Kingdom
Dowsing with Crystal Pendulum
Taking a Chakra Reading
Clearing of Negative Emotions
Benefits, building, and strengthening to in-still and build up new positive vibrations
Expansion to Change our Thinking and Behaviour
Grounding to transform our lower desires and heighten our vibrations
Lesson 3
Explaining Gem Colours and Chakras
The Chakra System and Associated Crystals
Locations
Colours
Elements
Related Glands
Psychological Functions
Related Emotions
Associated Body Parts
Physical Dysfunctions
Part 2
Lesson 4
Energies of Gemstones
Catalogue of Different Stones and Gemstones
How they can help treat certain medical conditions
How they can in-
still positive mental emotions
Lesson 5
Acquiring a Stone
Crystals for Healing
Cleansing a Crystal
Caring for your Crystal
Programming your Crystals
Gits
Generator Crystals
Double Terminator
Clusters
Re-Programming
How to Work with Crystals
Lesson 6
Crystal Meditations
Dowsing for the right time to meditate
Dedicating and blessing a stone
Ways of linking into the Devic Kingdom or higher consciousness of the crystal
Part 3
Lesson 7
Link with Astrology and crystals
Four Metaphysical Elements
Earth Energy
Water Energy
Air Energy
Fire Energy
Birthstones
Related Zodiac Signs
Planets
Elements
Making of Gem, Crystal Water, and Essences
How they can be administered
What medical conditions they assist with
Other uses
How to use a pendulum to ask what essences are required
What days of the week certain stones should be used
Related positive affirmations
Lesson 8
Crystal Treatments
Preparation for giving a crystal treatment
Clearing, instilling, balancing and expanding uses and how to go about this
Rebuild and expand consciousness at end of treatment
How to use crystal healing with other healing methods
Sample Client Treatment Card
Exam & Accreditation Information
Accredited by International Practitioners of Holistic Medicine (IPHM) & other awarding bodies. By completing this course and passing the final exam you will then be invited to join IPHM as an internationally recognised practitoner and have the option to obtain discounted insurance and use the letters IPHM after your name. 
Further Discount Offer
Huge Savings on our Career Package Options
All our courses are available individually (use the add-to basket button on this page), or are available as package bundles, allowing you to save on average 50% per course.
Use the link here to view the packages, where you can mix and match your own selection of courses to create your very own package.