*Note: due to fluctuations in exchange rates, prices shown in currencies other than GPB are approximate. Payments are always taken in GBP.
Single Course
£175.00
£125.00
Save £50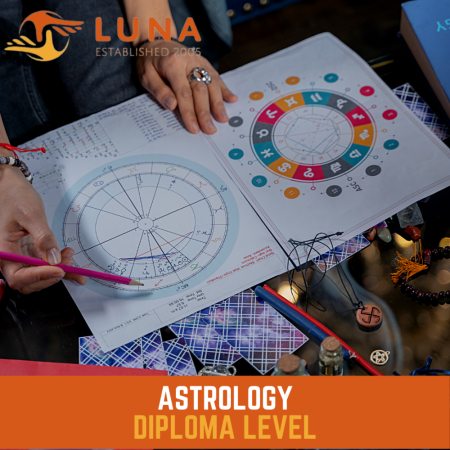 Astrology Course - Diploma Level
Get even further discounts on this course when you select one of our package options saving over 50%
Includes a certificate of completion with option to gain an accredited insurable qualification included. As with all our courses you will find this easy to follow and fun to learn.
There are many different types of astrology, which all come from different traditions around the world. In this course, we're mostly going to focus on Western and Vedic astrology. You will also learn how to create a chart for yourself and clients. This fully certified and accredited astrology distance learning course is perfect for either complete beginners to the subject of astrology or for those who have an interest and knowledge in horoscopes and western and Vedic astrology
When you purchase this course you have access to the following:
PDF Introduction letter 
Access to student dashboard
PDF course files ready for immediate download
PDF certificate of completion with option to gain an accredited insurable qualification.
Link to student video library & contact details for tutor support
Exam & Accreditation Information
If you opt to take the exam, on successful completion, you will then be issued with a recognised qualification approved & accredited by the International Practitioners of Holistic Medicine (IPHM) & other awarding bodies. Graduates of which will then be eligible to apply to be Board Certified Holistic Health Practitioners. 
Testimonials
I loved this course and can now make up birth charts for my clients that are clear and understandable as well as being accurate. I also found this course is helpful as I studied this as part of the Spritual package so now have the full tools to offer tarot readings backed up with astrology and palmistry.  T Jacobs - USA

At first, I was a bit daunted with the thought of studying such a huge subject by myself, but the course documents provided were very simple and easy to understand and follow. I would recommend this course to anyone who wants to start to learn the basis of astrology.  Poonam Dharman - UK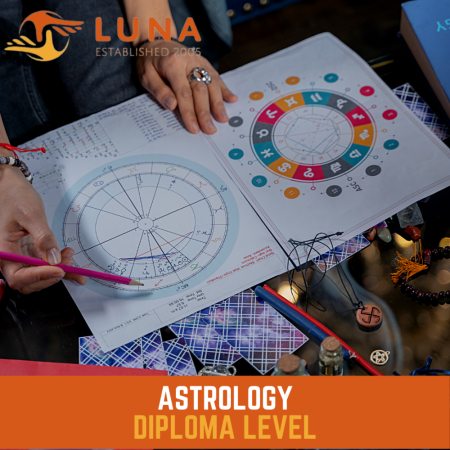 Course Details
Learn both Western and Vedic Astrology -  Diploma Course
Self Paced – Study From Home – No Attendance Required
Easy To Follow and Fun To Learn
Full Tutor Support Offered – Access To Student Video Library
Accredited by IPHM, IICT, AADP
Download Now for Immediate Start 
Course Content
Part 1: Introduction
Lesson 1 What is astrology?
Astrology vs. Astronomy
Ancient history of astrology
Modern history of astrology
Types of astrology
Lesson 2  Important concepts in Western astrology
The zodiac and signs
Planets
Houses
Aspects
Lesson 3 Important concepts in Vedic astrology
The zodiac and signs
Planets
Planetary periods
Lunar mansions
Houses
Aspects
Transitions
Part 2  - Birth Charts
Lesson 4  What are birth charts?
Do birth charts fix your destiny?
Western birth charts
Vedic birth charts
Lesson 5 Your Western birth chart
Creating your Western birth chart
Reading your Western birth chart
Interpreting your Western birth chart
Lesson 6  Your Vedic birth chart
Creating your Vedic birth chart
Reading your Vedic birth chart
Interpreting your Vedic birth chart
Part 3 - Horoscopes
Lesson 7  Information needed for horoscopes
Daily horoscopes – the Moon
Monthly horoscopes – Mercury, Venus, Mars and the Sun
Yearly horoscopes – Saturn, Jupiter
Long term horoscopes – Pluto, Neptune, Uranus
Lesson 8  Creating horoscopes
Creating daily horoscopes
Creating monthly horoscopes
Creating yearly horoscopes
Creating long term horoscopes
Lesson 9 - Presenting Horoscopes
Interpreting horoscopes
Writing horoscopes professionally
Part 4  - Case Studies
A Western birth chart
A Vedic birth chart
A Western daily horoscope
Exam & Accreditation Information
Accredited by International Practitioners of Holistic Medicine (IPHM) & other awarding bodies. By completing this course and passing the final exam you will then be invited to join IPHM as an internationally recognised practitoner and have the option to obtain discounted insurance and use the letters IPHM after your name. 
Further Discount Offer
Huge Savings on our Career Package Options
All our courses are available individually (use the add-to basket button on this page), or are available as package bundles, allowing you to save on average 50% per course.
Use the link here to view the packages, where you can mix and match your own selection of courses to create your very own package.