Colour your life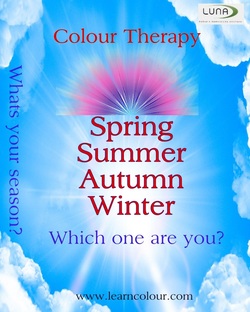 Your Free Colour Therapy Guide to the Seasons
Color surrounds us all and can have a great effect on our health. Whether we are wearing the correct colors for us, eating the right colored foods or sleeping in a room of color that brings us a restful nights sleep or causes us more stress is up to us. We can all learn how to improve our wellbeing by learning colour therapy.
Seasons and Color
Did you know that depending on what type of person or character we are then the seasons can also effect what colours we should be wearing.
Every day gives us the opportunity to absorb the energy from each of the colours of the spectrum. The changing colours in the day shows us how nature reflects back the qualities of the colours.
Season Colours  – The seasons also have their own rhythm of colours, mainly in the quality of the colours. Spring colours are light and clear (tints), summer colours are bright and intense (hues). Autumn sees deeper shades of colour, while winter's colours are soft and deep. Modern man has largely lost these natural rhythms as we do not live close to nature, but one way we do emulate the seasonal rhythms is in our dress.
Get your Free Colour Guide – The colour Therapy Ebook has a small extract from the colour therapy diploma course. You can claim your free copy and get a free course prospectus.
---
Post views: 1533